It's a catchy tune. But I'm not singing it because the campaign was a cultural phenomenon. It's because I genuinely like the song.
Olowogbogboro Anthem
, the song Nathaniel Bassey published off the success of his month-long Hallelujah Challenge is exactly that – an anthem. The sort that rabid fans chant lustily while their fists pump the air; feet stamping, eyes shut and heads waving like reeds shooting the breeze by the Nile.
A
lot of grounds
have been covered on
why the #HallelujahChallenge (with its companion hashtag #Olowogbogboro) was a big success
, but little has been said as to the specific alchemy that marked the campaign for success. Were an agency to attempt replicating this, what elements should they combine?
For a digital marketer, that's the question that needs answering.
How do you create virality?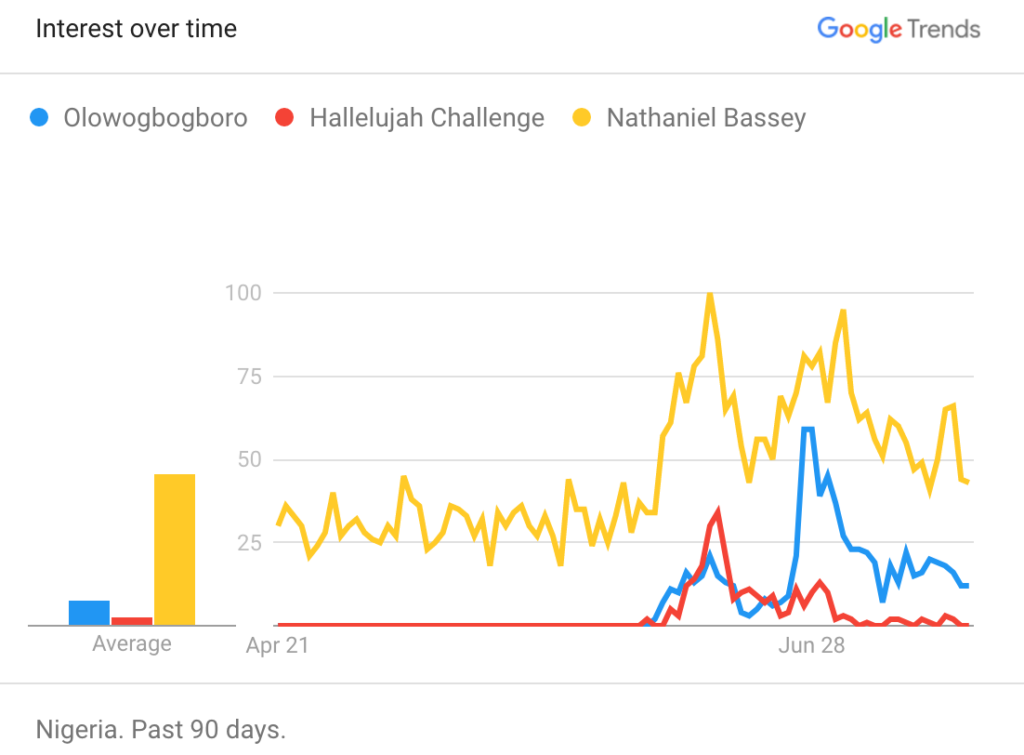 While we create lots of brilliant campaigns here, anyone who says they can predictably and consistently create viral campaigns lies. There is a
robust body of research showing that certain principles reliably drive people
to discuss and share things (read; build virality) and I will couch those elements evident in the Ologbogboro campaign in five of those ideas.
Simple interestingness
It starts with the message. Before the celebrity jet fuel and the media integration, there was a message. The ask of the #HallelujahChallenge was simple – "Let's praise God with songs." The idea of a simple ask has been consistent in the most successful social campaigns from the
#IceBucketChallenge
to
#ThingsILongThroatFor
. There is a simple ask. The best ideas are simple at their core.
The social currency
Appearance matters and Nathaniel managed to present praising God as something hip and remarkable. It wasn't long before the celebrity horde came calling. For the regular middle-class Joes, it was something to bring up at the water dispenser or during the drive home.
Tracking back to the idea of the campaign connecting to the religious core of Nigerians, an astute observation captured masterfully by
Wilfred Okiche
writing for YNaija, it is instructive to put Nathaniel's earlier #TongueCampaign in perspective. The campaign failed to the extent that it only comes up in post-mortem articles such as this one. That was a religious idea, but two key elements were missing.
It was (a) not a simple ask. Few people in the world can speak in tongues. Even with the uber-religious Nigerians, speaking in tongues is not a great past time. Music, though. We love music in these parts. And (b) the cool element was remote. It was hardly the done thing to start blasting tongues all over the place.
For the Olowogbogboro challenge, it matters less that the idea keys into Nigeria's religious psyche, but more that it spoke to it strategically and with a clear request.
The trigger
Eighty-percent of Nigeria's internet users already connect via mobile. Placing the idea on a platform already popular with the people keys into their post-rational decision-making framework. A handful of people will find themselves joining the campaign every day because it was within their reach. The timing element also played into this. Midnight is when people decide what to do next; to sleep or have another scroll through the timeline. Joining a global band of e-worshippers has a real draw in the midst of vacuous selfies peppering most timelines.
The story
People love stories. To make people feel something through stories is to make them commit. The ~2500 Olowogbogboro testimonies curated through the Hallelujah Blog and shared on Nathaniel's Instagram did well for the campaign and spiked interest.
Practical value
Think of the possibility of a miracle engendered by participation in the worship session and you see why some practical Nigerians joined up. Another practical value is the association. Up to a level, the Ologbogboro campaign had the association value as well.
The genius of the 360 degrees integration across online and offline channels also pushed the campaign way over the line. Hawkers displayed Nathaniel's album posters in traffic, and Olowogbogboro t-shirts were a staple. MTN sold bespoke Olowogbogboro data plans for N13 per night, radio announcers bantered about it, Churches talked about the campaign and it all rounded off with an offline Hallelujah Festival at a location in Lekki. Some of these elements were tacked on in-campaign, but if you aren't looking so closely, it'd be hard to notice.
Like everything, we will soon forget the social force that the #HallelujahChallenge #Olowogbogboro was. Another social coup will upstage this feat. But until that time, Olowogbogboro provides a veritable template for marketers looking to engineer virality. I'm not saying that combining these elements will make your campaign the next #MannequinChallenge, but will it increase your chances at virality by many percentage points? Totally.  
—
This article was written by
Gbenga Onalaja
. Gbenga is an oatmeal-powered Content Strategist at
Wild Fusion
, Africa's leading Digital Marketing Agency. He specializes in long-form content, email marketing, SEO, and writing compelling brand stories.
—