Hello there 🙂
Today we will be talking about search marketing and its benefits or advantages. In my little working experience, (by little, I mean 3 years working experience and been a Google Qualified Adwords Individual twice) I have had the opportunity to talk to various people, attend various seminars and read various articles. I have observed that people often mistaken Paid Search Marketing with SEO (Search Engine Optimization). I will explain both and highlight the benefits of paid search.
SEO is the process of improving the volume or quality of traffic to a website from search engines through free or organic listing. See image below to further aid your  understanding: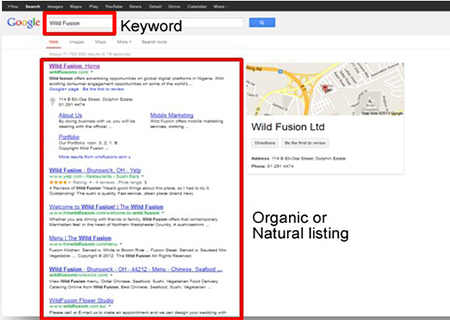 While Paid Search Advertising also known as SEM is a form of internet marketing that promotes websites by increasing the visibility in search engine result pages. The Ads can appear above or below the natural listing as well as the right hand side of the page. See image below for further understanding: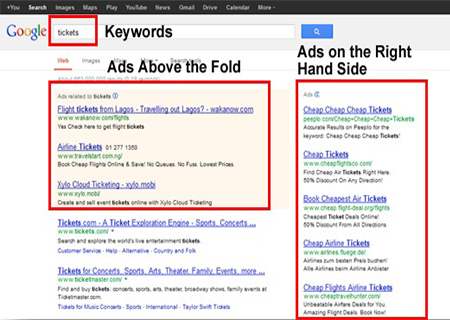 From my observation, the paid search works wonders. Let me shed more light on some major advantages of search advertising.
Search is the most popular medium of research and information source. This makes your Search Adverting the most targeted form of adverting as you will be reaching users at the point of their needs. If you are a travel agent and anyone searches for words like cheap tickets, holiday trip, vacation package etc, your advert will appear. When people search online for a product or service, most times they are usually in the buying mood. So if your Ad appears, you can easily convert them to customers.
You can do business globally. If you run a business in Nigeria or any country and have prospects overseas, you can reach them easily as there are no geographical boundaries.
Get more targeted traffic to your website. Millions of searches are conducted every day as people look for websites, information, products and services. With search marketing, you can definitely get more targeted traffic to your website thereby building your brand. When your website has high visibility on search engines, you are showing your prospects that your business is an authority within your field.
It is cheaper when compared to other types of advertising. There is a PPC model(Pay per click) this allows you pay only when someone clicks on your advert. Thereby you not only advertise to specific/targeted audience, you only pay when they click on your Ad.
So at the end of the day, it is clear that Paid Search advertising is good for every business that offers goods or services to people. If you haven't tried it out yet, you should and we will be glad to help.
Interested in running a search campaign or need more insights as to how search works? Feel free to contact me or you can send a mail to Wild Fusions and we will be happy to help.
In my next article, I will be sharing some case studies on Search Advertising. See you soon 🙂

ABOUT THE AUTHOR: Toni Oladele is the Campaign Manager for Wild Fusion Limited, with over 3years experience in digital advertising and social media. In her spare time, she enjoys watching movies!