Content has become increasingly popular with videos and images, but written content remains an important part of any marketing campaign, even before the world went digital. There are many different types of written content, ranging from blogs, emails, articles, etc. Whichever you choose to use is dependent on your marketing strategy and the industry your brand is in.
Now, let's take a look at 8 examples of content writing to inspire you and help you round out your content writing efforts.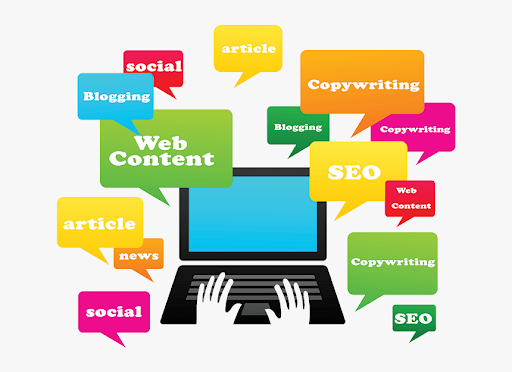 8 Timeless Types of Online Content 
1 Website content
Think of your web content like building a house. Using this analogy, web content represents a foundation: Your homepage, about page, product, and services.
Each of these is an essential piece of content every business should have on their website. From writing each page to creating Frequently Asked Questions or a resource center for customers, your website is often the first point of contact for potential customers.
It is impossible to find information about a company without this. You need engaging conversion writing skills, good web knowledge, and SEO writing skills (how to use important keywords).
A great web page should always be about the customer, not just about the brand, the products, or the services you offer.
Your website content should meet customers at all different points in their marketing journey, so make sure it engages customers at all levels.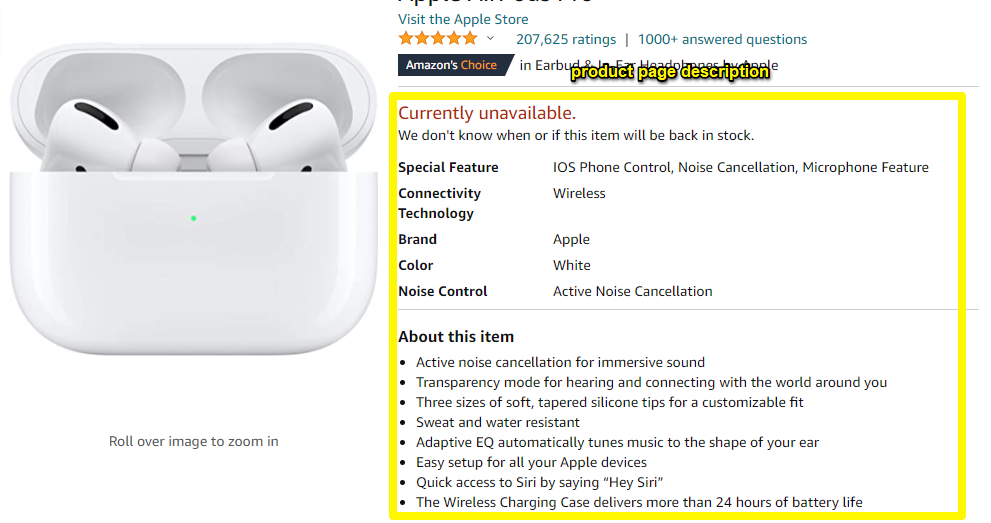 The product page for Apple AirPods Pro on Amazon is a description of what should be on any website's product page.
2 Blog Posts
Your website is like a house, while web content serves as the foundation, your blog is the structure and the rooms in your house.
Blogging is a primary content format. It provides a contest for an audience. It connects an audience to a brand.
Blogging is an essential type of content, and that is because blogs have a wide range of business benefits. From helping with SEO and getting your website to the top of the rankings to elevating your business as an expert in your field, blogs are still an important type of content to focus on and it needs to be done consistently. When done correctly, it can significantly boost a brand's bottom line.
A good blog should consist of comprehensive blog posts, takeaways for the reader, actionable tips, graphics and screenshots as proof of the points we make, statistics and research facts, and calls to action to engage the readers and motivate them to take action.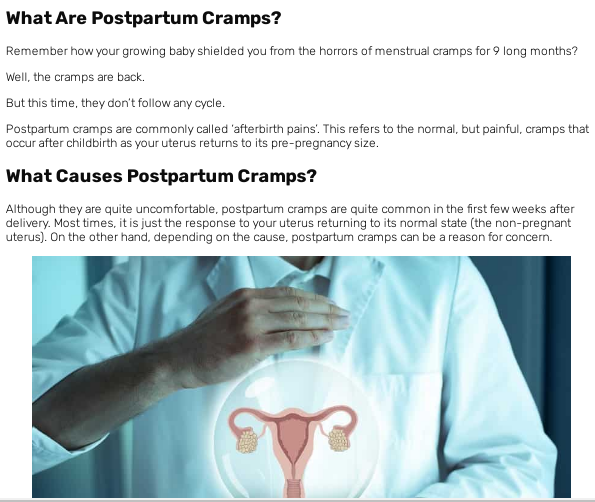 An example of a good blog post is this Edie and Amy article on Postpartum Cramps
3 Social media posts
Think of social media as a supporting content player. It is difficult for brands to reach a larger audience in this social media age without utilizing social media.
Many people surf the internet for information about various products and services and some even go as far as following them.
Having a social media presence is very important.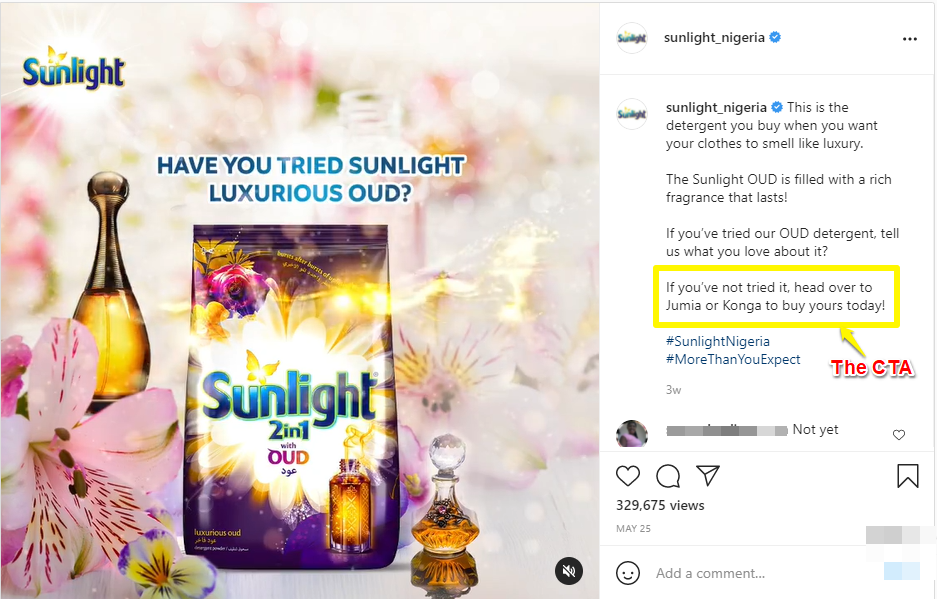 This post by Sunlight offers an excellent description of what should go into a social media post.
While creating a social media post, always remember that CTAs are important. And even if you can't connect it to a sale, constantly posting engaging and relevant content on your social media can play a huge part in a customer's decision.
Overall social media is a world of content on its own.
Finding the right platform and staying consistent with a great presence there is the key to seeing more results from social media.
A good social media presence incorporates a lot of things like good visuals, fun & original captions, stories, emojis, hashtags, etc.
4 Ads and Sales copy
Advertising and sales copy gives the perfect touch to the products and services you offer.
This type of copy helps make your presence online appealing to your audience.
Ads and sales copy apply to almost every business in every industry and can take various shapes.
When it comes to sales copy it is important to remember that trust comes first. Good ads and sales copy bringing in good revenue are written in less of a pushy sales tone.
It's not just about being 'salesy' Good ads are segmented to the right audience at the right time. It is not manipulative and it's not misleading.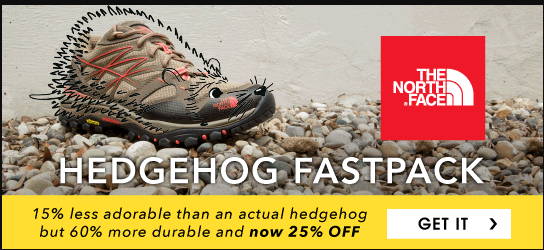 The screenshot of Hedgehog Fastpack ads on Google is a description of an ideal Ad & sales copy.
Using humor as a means of identifying and selling products without being overly direct is a hallmark of Hedgehog Fastpack, an outdoor apparel outlet store. When people are able to relate to them emotionally, they are more engaging and memorable.
5 Video content
Video content is all about how to use video to drive traffic to your business. Basically how to make more money using video.
Video has proven over time to be the most engaging form of content, this is because it engages most of our senses. We can watch it, hear it, read stuff on video.

This video of Sisi Yemmie's plantain pottage recipe is a good description of what a video should look like and entail. The imagery is clear and inviting, the title of the video is also boldly written with an inviting CTA, in other words, the content on the video depicts the information it is trying to pass across in a simple and precise manner.
You may not think of videos as a place where you need content writing, but truthfully, well-written video scripts will make your videos much more successful.
The best way to ensure videos are on-topic and cover everything they need to cover is to write down the key points and script the entire video. Prepare an outline or write a full script if necessary for video content. Having a script can reduce anxiety and serve as a guide when filming your video. 
6 Newsletters/emails
Newsletters are used by businesses and organizations to communicate relevant and valuable information to their network of customers, prospects, and subscribers. This could be done by email marketing service providers.
You can share engaging content with your audience, promote sales and drive traffic to your website by sending out newsletters directly to their inboxes.
Newsletters and customer emails differ from other types of content in that the people who receive them are usually people who already have an existing relationship with your brand and are loyal to it.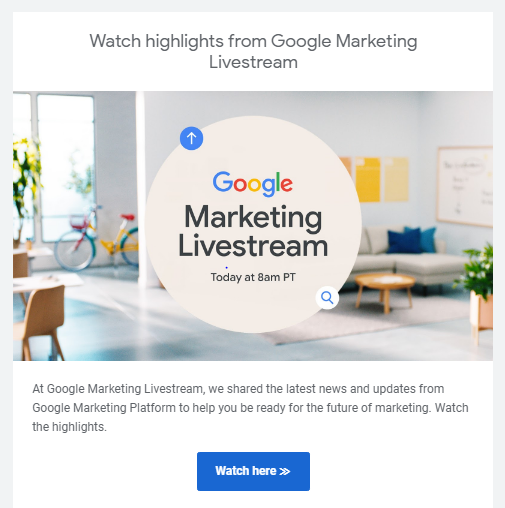 This newsletter has a simple message that is appealing, catchy, and digestible for the reader, as shown in the screenshot image from Google.
Newsletters are an excellent way to stay in touch with customers, prospects, and subscribers and share useful information. Sharing unique content that they cannot find anywhere else can help keep their interest and make them look forward to receiving your emails. 
7 Infographics
According to Facebook, a social media scroller will spend no more than three seconds on any one piece of content on average.
However, if you post an effective infographic that locks in a viewer, then that number is all but forgotten.
Infographics are a combination of visually appealing and written content, while you may not associate them with content writing.
Simple charts which compare your products to others can go a long way towards educating your customers.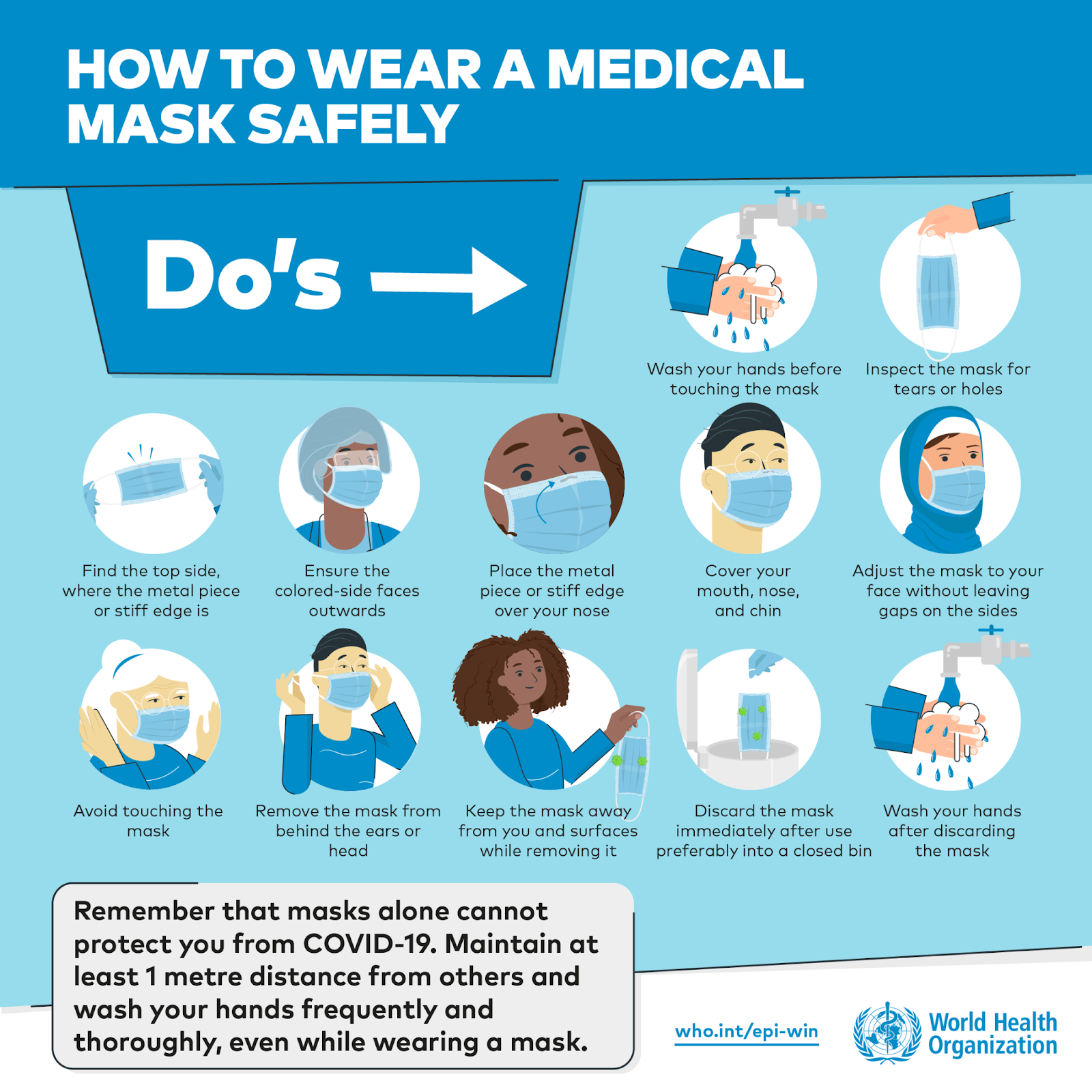 The Covid 19 regulations from the World Health Organization detail when and how to wear a mask in a clear-cut manner. 
These few tips will help you in creating a social media infographic that will boost your engagement, grow your following and improve your web traffic. 
Finding a relevant topic

Create an attention-grabbing headline

Utilize white space (Empty space)

Make sure your flow makes sense

Create visual flow elements

Find the most relevant data
8 Copywriting
In copywriting, you use written words to persuade someone to act. It could be to respond to a message, it could be to purchase your product, click here, buy this, or any form of action. It is the ability to Persuade, Influence, and Engage.
This type of content writing includes writing website copy, product descriptions, sales collateral, advertisements, and also concentrating on print media (like press releases or print ads) and infographics.
Copywriting has a lot to do with closing and selling and very little to do with writing. 
Conclusion
Do you ever wonder how content writing fits into the ever-growing field of online business?
Increasing use of the internet, technology & digital media has resulted in a greater dependency on online markets as customers' preferences have shifted from a traditional advertising world to the digital one. 
Traditional marketing is losing its appeal to consumers today, who want to be entertained, educated, or informed by a brand's content. Content writing is a bigger deal than ever, and you cannot ignore it as a marketer. 
Creating and promoting engaging content is the right fertilizer for business growth.
What type of content are you deploying for your company today?