It's always difficult to gauge how well a company is faring, especially as a startup. Oftentimes companies spend countless hours measuring customer satisfaction, but in order to be successful in your industry, it's important to be proactive in maintain a strong digital presence. While there are several ways to accomplish this task, a strong SEO stratrgy is chief among them. Unsure where to begin? Wild Fusion is here to help!
We're a leading digital marketing and communications agency, with a presence in Nigeria, Ghana and Kenya, leading our clients through skilful digital innovations. We excel in social media marketing and were the first Google Ads certified technical partner in Ghana and Nigeria. Through our vast wealth of experience, we've attained a reputation for groundbreaking solutions and excellent service.
In light of our impact on the digital space, Wild Fusion has been named a top nonprofit partner for SEO companies, according to Clutch's 2019 report. We'd like to take this opportunity to thank our valued customers, who participated in client interviews on our behalf to assess our impact on their companies. In reflection of our service and attention to client success, we've received 4.5/5-stars as our company rating. We're excited to keep up the good work! Please take a look at a recent review below: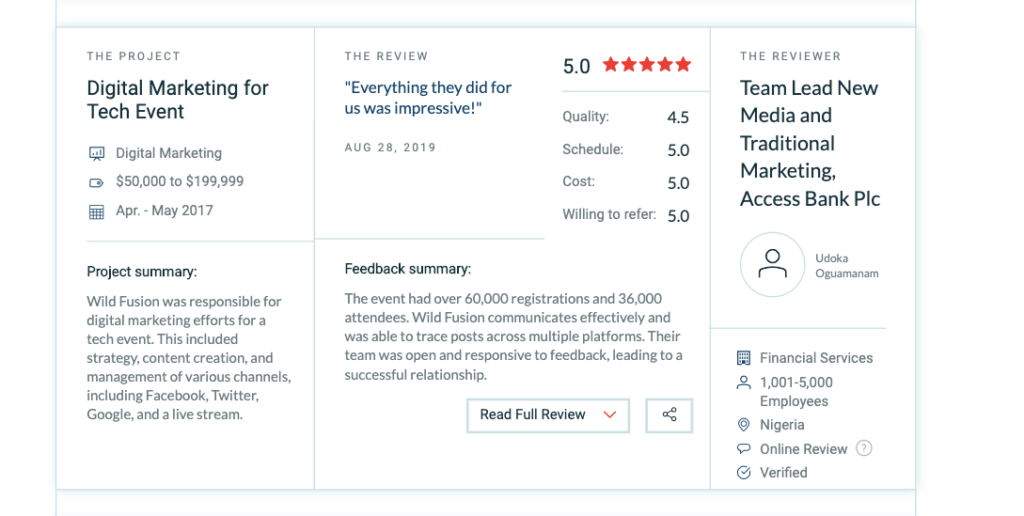 For those who might not know, Clutch is a B2B ratings and reviews platform that uses a unique ratings methodology to compare businesses. We're also featured on The Manifest's shortlists, Clutch's sister site geared at business data. Visual Objects, Clutch's other sister site is another resource for finding top B2B companies, just like us!
Once again, thank you for this immense honor! Contact us today if you'd like to start a project and improve your company's digital presence or you looking for a top digital marketing agency